5 Years, 5 Voices Audio Project: Mercy Kilby

April 29, 2022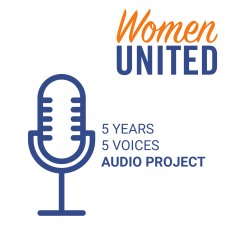 In honor of Women United's five year anniversary, United Way of Southern Maine created a 5 Years, 5 Voices Audio Project featuring five impactful voices that help tell the story of the Giving Circle from inception to present-day. Voices range from volunteers that have helped drive impact, leadership, advocacy, and investments.
One of our five voices is Mercy Kilby, Project WIN (Women in Neighborhoods) Coach with The Opportunity Alliance. For nearly two decades, Mercy has worked to help our community thrive. In her current role with Project WIN, Mercy helps single moms enrolled in the cohort receive the support and resources they need to advocate for themselves, their children, and others.
Listen now to Mercy's interview.